Since iOS 4.2 brings one gigantic new feature to the iPad (hint: think multiple tasks), it also needs a way to switch between those multiple apps running in the background. Unsurprisingly, Apple has gone a route very similar to their multitasking bar on the iPhone and iPod touch versions of iOS.
Pictured above is the iPad's multitasking bar in iOS 4.2 GM. As you can see, it has the standard orientation lock found on the iPhone and iPod touch, as well as music control buttons and the icon of the app that is playing music. Added to the mix, though, is a slider to adjust the screen brightness; a new button to enable AirPlay, a new feature in iOS 4.2 that will allow you to play media to your Apple TV (supposedly audio-only at this point, but I can't independently confirm this); and a simple volume slider.
Macrumors.com has also noticed that there has been a slight tweak to the MobileMe sign that could actually be a sign of something far more significant: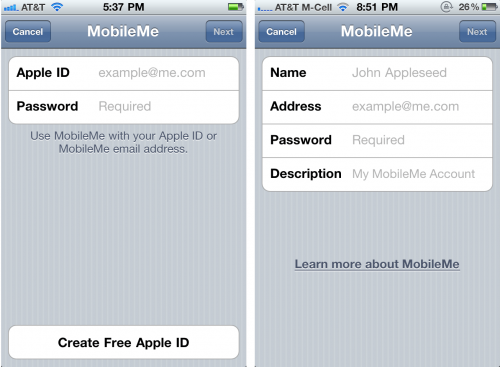 iOS 4.2 on the left, iOS 4.1 on the right
This could be nothing more interesting than Apple wanting to consolidate two major log-ins into one. On the other hand, this could be a sign of future plans by Apple to make the current pay-only features of MobileMe available to everyone for free. This would make sense, as Apple's business is mostly about selling hardware for a premium, and then just barely breaking even on other services (iTunes Music Store, App Store, iBooks to name a few) that surround the hardware and forms the ecosystem that Apple is so famous for.
Of course, if MobileMe was to be free there would have to be an announcement in the immediate future, as we can only assume that iOS 4.2 is very close to release due to it being in GM.
Post a response / What do you think?